The PINEAPPLE PETE Restaurant is part of Pete's Village, offering a simple motto: "Great Food, Great Service". This is exactly what you will find here, outstanding food, fast, friendly and efficient service offered in a cozy and casual atmosphere. Opening everyday for lunch and dinner, non-stop from 11am, Pineapple Pete is located only minutes from major hotels and 8 min from Marigot. Voted best on the island of Sint Maarten for the award 'Live Music Nightly'.

Pete's Village, the One Location to Enjoy Yourself on the Island!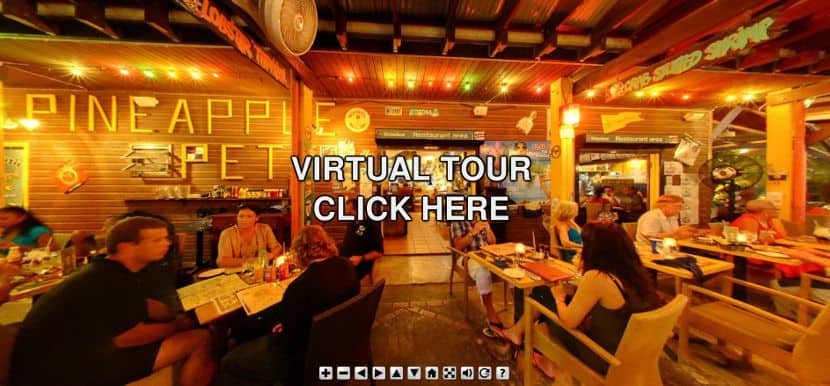 Menu: Soups, Salads, Appetizers
Menu: Burgers, Wraps, BBQ
Menu: Lobster, Seafood, Vegetarian
Once in St. Maarten, you need to explore Pete's Village – an entertainment destination conveniently located in Simpson Bay, keeping you busy from dusk to dawn with great food, live music and much more. Easily accessible with its location on Simpson Bay's main road, just across the movie Megaplex and Paradise Casino, the Village is also on the Lagoon's waterfront and has a generous dinghy dock for boaters.
Pete's Village is the site of the original Pineapple Pete Restaurant & Bar where you will have a superb dining experience with great food and great service! Next to the restaurant is Pete's Pool Room, an entertainment area with 8 pool tables, dart boards and arcade games. Head in to Pete's Corner Shop and Collectibles and browse through t-shirts, hats and more, handcrafted jewelery items, local rum and great memorabilia to bring home from your trip!
Great Food, Great People, Great Service, Great FUN!
FOR RESERVATIONS & TAKE OUT CALL 544-6030
Great Food, Great People, Great Service, Great FUN
The menu features a wild variety of items that can please even the most difficult palate. House specialties include: Herb Crusted Rack of Lamb, Crab Stuffed Shrimp, Lobster Thermidor, Crab & Spinach Crusted Grouper, Seafood Gratinée and Surf 'N' Turf. And the little ones with their own children's menu haven't been forgotten.
Its the guests who rate the restaurant "5G's" for Great Food, Great Service, Great Atmosphere, Great Entertainment and Great People.
Come for lunch, come for dinner, come for drinks, music, darts or pool, but above all come and enjoy yourself.
Soups, Salads, Appetizers
Burgers, Wraps, BBQ, Pasta, Meats
Lobster, Seafood, Vegetarian
8 Pool Tables, Dart Boards, Arcade Games and Much More!
In addition to amazing food, Pete's Village as the home of Pineapple Pete also has an option-filled award winning game room consisting of 8 pool tables, dart boards an array of arcade games and a well stocked bar serving beers, cocktails and other drinks. This is a favorite hang-out for both locals and tourists. The ambiance is very therapeutic for anyone wanting to get rid of stress or boredom. So whether you come to Pineapple Pete for food, music, drinks, darts or a game of pool you are guaranteed to have a great time!
Here you can get all your favorite Pineapple Pete gear, such as t-shirts, hats, tops and more, and now there is also a whole new ladies selection and kids selection with fun and cool items. In Pete's Boutique you will also find a huge selection of unique souvenirs, perfect to bring back as a memento of your trip, or as an appreciated gift to your friends back home. There is
special flavored rum, unique and handcrafted jewelry, locally crafted items, handmade photo-frames, local spices, hand-painted glasses, special postcards, and much much more!
Come in and check out the shop for your unique and perfect souvenirs! If you forgot to make a reservation at the restaurant, just come in and browse through the collectibles while you wait for your table!