Sunset Beach Bar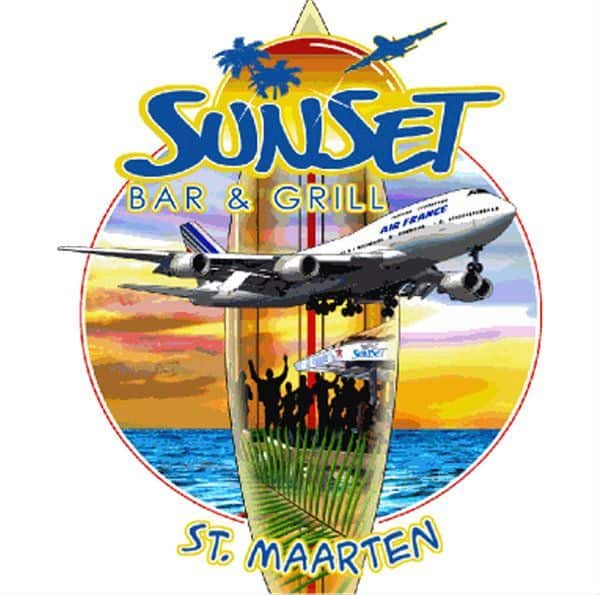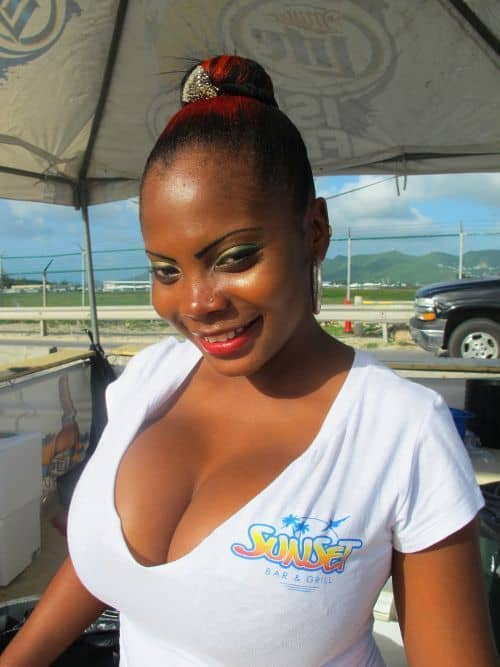 Sunset Bar & Grill is an institution on the Caribbean island of Sint Maarten-Saint Martin – if not a destination in itself. Voted by an international magazine as one of the Top 3 beach bars in the world, Sunset Bar & Grill is so much more than just a shack on a tropical shore.
Located on Maho beach, at the end of St. Maarten's International Airport, Sunset is famous around the world amongst aviation enthusiasts. Nowhere else is it possible to experience starting and landing jumbo jets that closely. Go to Sunset's website and enjoy amazing videos.
Tasty and well-priced comfort food is another hallmark of Sunset, which starts serving breakfast at 7.30am, continues with lunch and wraps the night up with snacks, even way after dinner time.
There is regular entertainment. During the day, the crab races are a beach-goers favorite, where money can be bet on the individual 'race crabs'. At night and at daytime during the weekend, Sunset is one of the most prominent venues for live entertainment, with a great variation of Caribbean and international artists performing.
Reflecting St. Maarten's liberal lifestyle, one bar-rule is still being enforced: Topless ladies drink free at the bar!
Click Here to Visit Website >>>
---
Sunset Bar & Grill
#2 Beacon Hill Road

Beacon Hill

Sint Maarten
1 721 545-2084
E-Mail: This email address is being protected from spambots. You need JavaScript enabled to view it.
A new culinary attraction has opened in the island's western region at the Atlantis World Casino.

Basilico International presents itself as a restaurant featuring Italian cuisine, but with an American twist. Chef Pietro Persichino explains: "Our menu offers many authentic Italian dishes, prepared just the way my grand mother taught me back in Europe. But Italian food has evolved in the Americas and there are a few recipes which should be considered as 'international'."

Persichino is also proud to introduce his Sicilian colleagues Guiseppe Mazzola and Giustino Schimmenti: "These guys bring tremendous fine dining experience to the table. With such a team, I'm confident that we can please the most discriminating palate." He pauses, ads as an afterthought: "But you got to try my lasagna... if you don't like it, its free!"

Basilico is located right across theAtlantis Sports Lounge. The restaurant's wine list presents a selection of quality Italian wines, but also international labels.

Opening Hours:

6PM to 10 PM (weekends 11PM)
Now there is another great reason to head over to the Cupecoy region. The brand-new Atlantis Sports Lounge just opened at.. the Atlantis World Casino. Created by the management team of Viktor Karkus and Alessandro Oriana, the Lounge fills a wide open void in St. Maarten's otherwise exceptional entertainment portfolio.


The fully air-conditioned Atlantis Sports Lounge features pool tables, dart games and a selection of four brands of beer on draft. Alessandro Oriana explains that the bar will also offer about sixty different cocktails. As an award-winning bartender, Oriani knows that the quality of drinks served is key to success: "We have a selection of over one hundred liquor brands – and we will make sure that each cocktail is consistently prepared to precisely the same standards. Once you found your favorite drink, return another day and get exactly the same great mix."

"The Lounge is meant to be a place to chill, relax, to have fun with the games we offer and to enjoy conversations with your friends", ads Viktor Karkus. "Our food menu offers a number of delicious snacks – all the good stuff you expect in a place like this, from chicken wings to pizza. Because Pietro, the head chef of Basilico right next to the Lounge is also responsible for the food here, our guests will be pleasantly surprised about the tasty treats we serve!"

Opening Hours

Atlantis Sports Lounge: 4PM to 2AM