Learn more about the Caribbean's most exciting vacation destination! If you appreciate gourmet food, world class duty free shopping, vibrant nightlife, pristine beaches, year-round warm climate and a cosmopolitan atmosphere with a Caribbean twist, Sint Maarten - Saint Martin is for you!
SINT MAARTEN - SAINT MARTIN provides vacationers the opportunity to enjoy three distinct cultures on one 37 square mile island. There is the delightfulness and soberness of the Dutch on one side, the savoir-faire of the French on the other, and the blending of both with exotic native heritage.
Add dozens of beaches and lagoons, luxury hotels, elegant villas, and over 300 restaurants and you may understand why St. Martin is the most visited of all the Leewards. All the great chefs, European, American, or Asian vie to compete in this gourmet capital of the Caribbean, creating cuisines equal to the best of Paris or New York. Shopping on the island is duty free and casinos, discos and night clubs stay open till dawn. Jumbo jets from world centers land here and charters allow visits to the smaller Leewards. There is something to satisfy every taste on St.Martin ...
Nude Beaches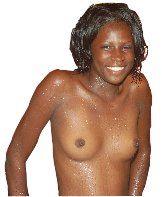 St Maarten - St Martin has a fairly relaxed attitude towards beach nudity. The island is the leading Caribbean destination for nudists, with Club Orient on famous Orient Beach the resort of choice. Topless sunbathing is the norm almost everywhere, except at some resorts catering to a mostly conservative American clientèle. The famous Sunset Bar & Grill at Maho Beach offers free drinks to topless ladies.
Even though the Dutch side doesn't advertise 'official' nude beaches, Cupecoy Beach has been for decades the Dutch side clothing optional spot. There are several remote beaches, where nobody will complain if you swim in the buff.
On the French side, there are many empty beaches and visitors can dress or undress as they please - again, nobody really cares - no matter what official publications state. Safe 'nude' spots besides Orient Beach are Baie Rouge and Happy Bay next to Friars Bay.