AMIGO TOURS is an experienced tour operator that will be able to offer taylor made island tours for each requirement.
The company is run by a young, ambitious team who understand that in this day and age of social media and instantly available performance reviews, only the best will prosper.
Searching Availability...
You can explore St. Maarten/St. Martin from the Dutch capital of Philipsburg to Marigot, the capital of French St. Martin.

If you're visiting by cruise ship for the day or vacationing in one of our luxurious hotels, an island tour or shore excursion by the courteous and knowledgeable tour guides of Amigo Tours is the best way to get the most out of your day.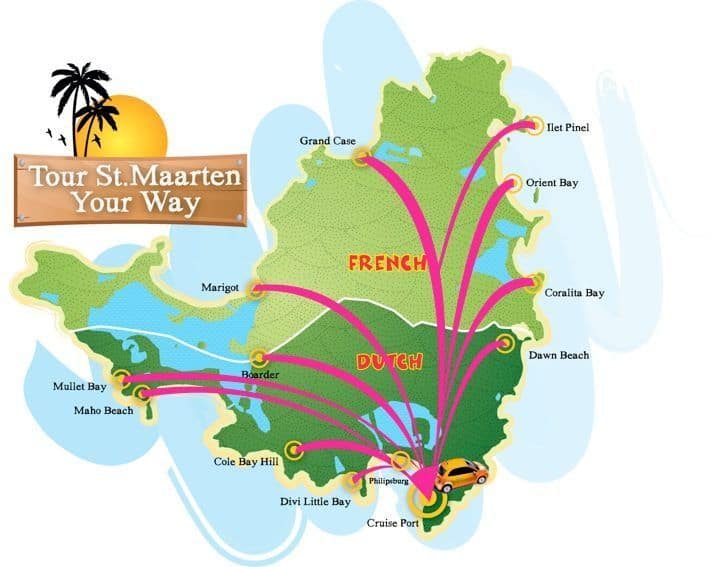 Their knowledgeable drivers provide the best island tours interlinking authenticity, culture and local area knowledge into a short, hassle free visit that gives value for money. They will show you the island's unique landmarks and a high quality St. Maarten experience.
Their tour packages offer the best in sightseeing, shopping and beaches on St. Maarten.

Amigo Tours will do pick-ups at the port or hotel before venturing out into the welcoming Caribbean sunshine to the most picturesque spots for photo opportunities. You can ride with them to Orient Beach, one of the island's premier beaches for sun, sea and fun. The quaint former fishing village of Grand Case is a "must see", they will show you how the natives and tourist coexist confirming that St.Maarten/St.Martin is indeed the "Friendly Island".
Shopping
in Philipsburg and Marigot is second to none in the Caribbean, both towns are duty free and offers the finest outlets and the best prices that money can buy. Venture cross the symbolic Dutch-French border towards Maho Beach for the ultimate plane watching experience.
Amigo Tours
private and special request island tours/shore excursions are designed to provide a variety of different experiences to visitors; whether you are looking for a short introduction to an area, a taste of culture, or an exclusive once-in-a-lifetime adventure, with
Amigo Tours
you can relax and enjoy the incomparably beautiful scenery that St. Maarten/St. Martin has to offer while being chauffeured in a comfortable, clean and fully air-conditioned van or coach.
While on tour
, you will also receive complimentary refreshments. Don't hesitate to ask the tour guide to sample the local Guavaberry liqueur; you won't regret it.
At
Amigo Tours
they have a greater understanding of customers expectations, requirements of product and services. As a company owned by taxicab drivers with a combined experience of 21 years and as "ambassadors" of St. Maarten they aim to make you feel special. All tours are expertly managed to ensure start times and finishes are fitted to your cruise ship schedule.
---