As hard to believe as it may be, St. Maarten/St. Martin has thirty-seven beaches on its thirty-seven square miles! Whatever your lifestyle or vacation style, there will certainly be a beach suited to the ambiance you desire. For the action seeker, many beaches offer water sports of every description.
Beach bar/cafes are there for your enjoyment too, and offer varied cuisines, from classic French to pizza and burgers, as well as local Caribbean fare. Blenders are busy mixing up delicious fresh frozen cocktails, guavaberry, mango, and passion fruit coladas heading the list. Beach chairs and umbrellas are provided for those who just want to soak up the rays and do some people watching.
If quiet and privacy is more to your liking, St. Maarten/St. Martin has numerous beaches that are semi to totally secluded and offer little or no facilities. Ask a local for directions. Enjoying the beach in the nude is possible at several locations, topless is very common on St. Martin.
Learn About (Almost) All Beaches of Sint Maarten - Saint Martin
Bring your camera! As you drive over the mountain from French Cul de Sac to Anse Marcel, breathtaking panoramic views enable even the most amateur photographer to appear the expert.
St. Martin's gastronomic capital at night, Grand Case Beach is a pleasant "town beach" while the sun is up. You may want to take pictures of the many sailboats anchored just off its shores. Several small to midsize resorts are nestled between numerous bars, restaurants and private homes. A number of local establishments offer lunch and refreshments.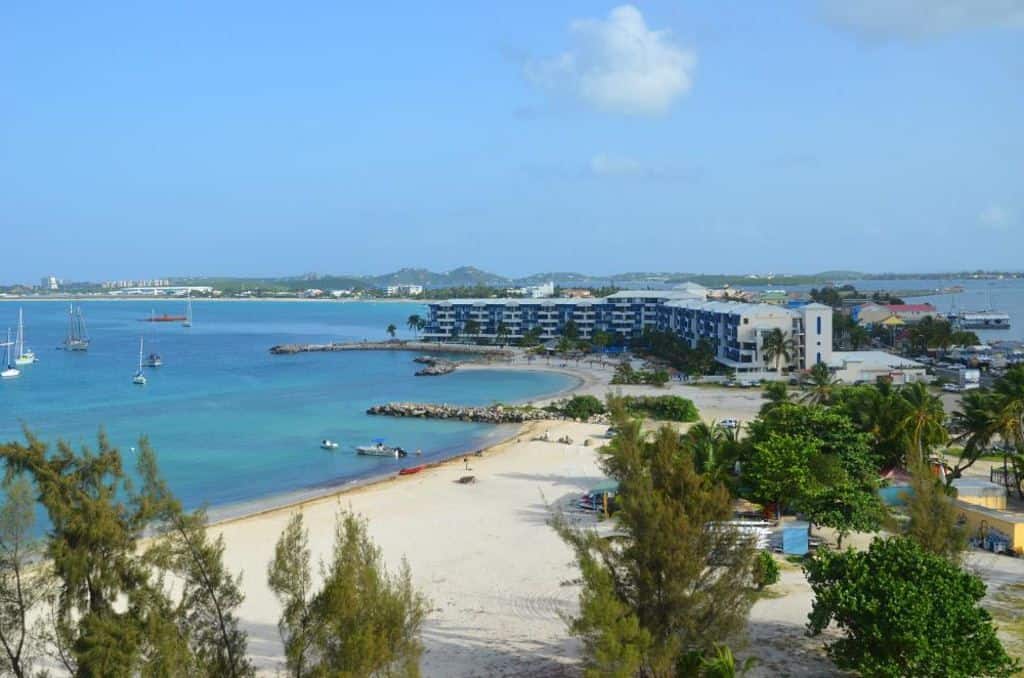 Conveniently close to the action of Simpson Bay with its resorts, restaurants, nightclubs and casinos, Kimsha Beach is one of the most central beaches on the island.
Nettle Bay has beaches both on the calm lagoon and the Caribbean Sea. Since the lagoon water has not much waves, it's ideal for many watersports, especially skiing. Nettle Bay is home to a number of excellent full service hotels and is a short distance from the French side capital of Marigot.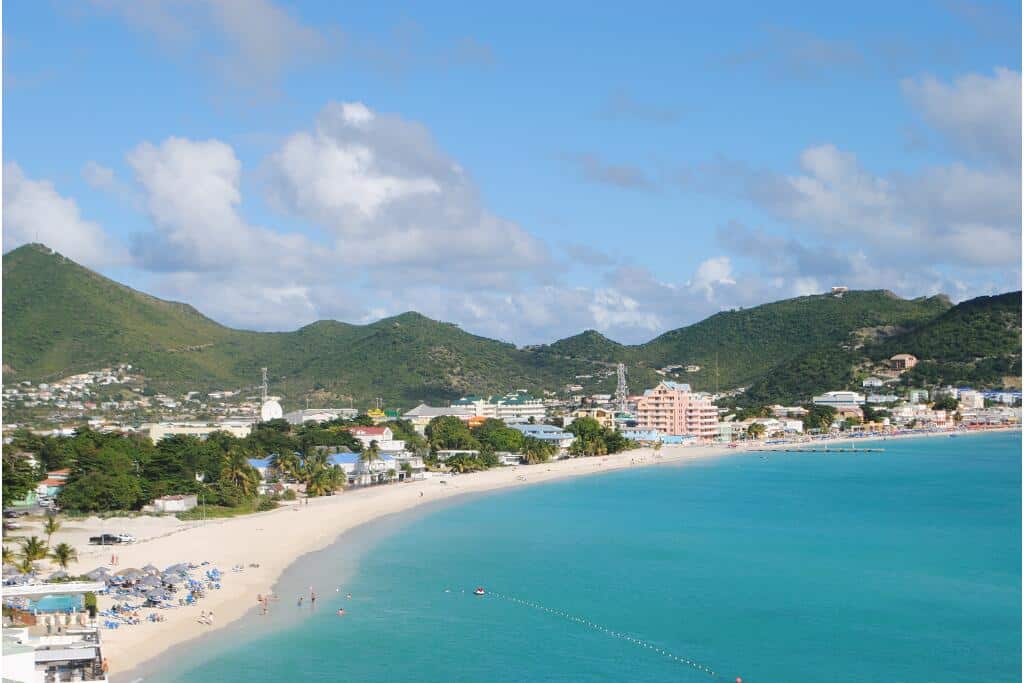 Stretching for two miles in front of the Dutch side capital, Philipsburg, a myriad of cruise ships sail into her harbor daily. The thousands of cruise ship visitors that line Great Beach every day can keep an eye on their floating hotel and shopping in Philipsburg is always close at hand.
Maho Beach has become one of the island's leading attractions: this is where the runway almost meets the beach, separated only by a narrow road and a flimsy fence. The location is also a great place to watch the sunset, and home to St. Maarten's largest and most successful hotel complex, The Maho Reef Resort and its neighbor, The Royal Islander Hotel. The beach itself is framed by two beach bars: Sunset Bar & Grill and on the other end the Driftwood Boat Bar.
Located on the southern coast of St Maarten, just around the corner from Great Bay, this small but pretty beach is well protected by the outcrop of Fort Amsterdam right on the edge of Philipsburg. Several snorkeling excursions are using the rocks as a perfect spot to explore the tropical underwater world.
Surfers, get out your boards! Guana Bay is awesome dudes! This is the best beach in St. Maarten/St. Martin for surfing enthusiasts, and is recommended for strong swimmers only, since there is usually a heavy undertow. Guana Bay is also an upscale neighborhood with many attractive residences. Natur is more on the rugged side, as the persistend trade winds coming from the East are surpressing growth of lush vegetation a bit.
Just down the road from Maho Beach, this is a surfers paradise, when the conditions are "right". Mullet Bay Beach borders on the island's only 18-hole golf course and is very popular with locals, especially on the weekends. The medical university is in walking distance, so you could also expect many students to hang out here in their limited free time.
As hard to believe as it may be, St. Maarten/St. Martin has thirty-seven beaches on its thirty-seven square miles! Whatever your lifestyle or vacation style, there will certainly be a beach suited to the ambiance you desire. For the action seeker, many beaches offer water sports of every description.
Not everyone will be happy that we list this beach here, because Happy Bay is still considered THE insider's beach on St. Martin.
St Maarten - St Martin has a fairly relaxed attitude towards beach nudity. The island is the leading Caribbean destination for nudists, with Club Orient on famous Orient Beach the resort of choice. Topless sunbathing is the norm almost everywhere, except at some resorts catering to a mostly conservative American clientèle. The famous Sunset Bar & Grill at Maho Beach offers free drinks to topless ladies.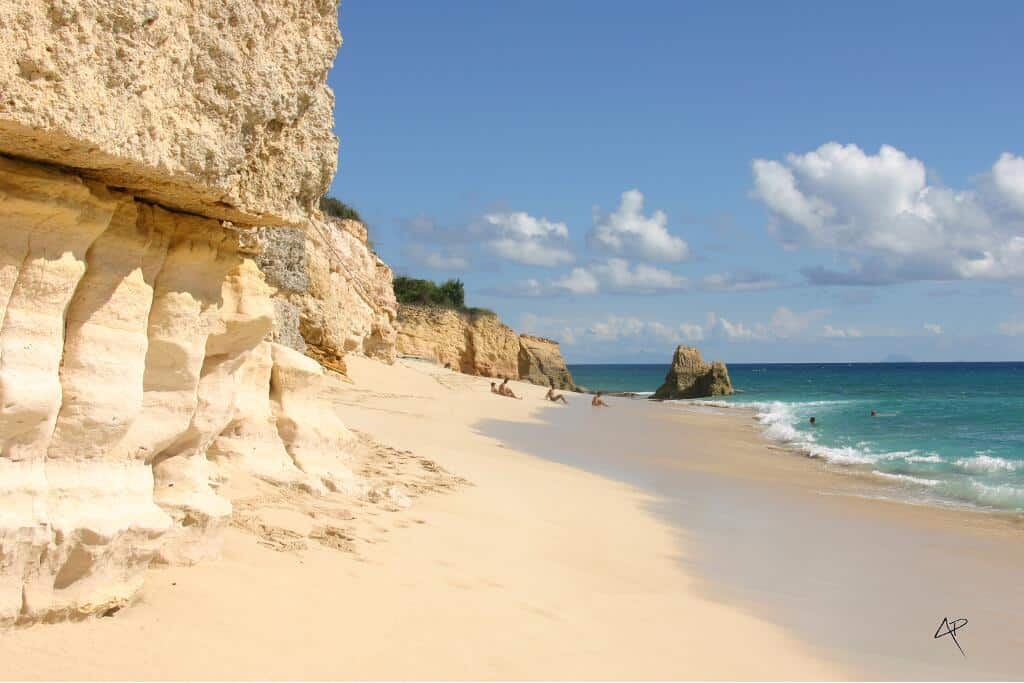 Cupecoy is Dutch St. Maarten's semi-official nude beach. Sandstone cliffs give Cupecoy beach a dramatic golden backdrop, unlike any other beach on the island.
Only two miles off St. Martin's eastern coast lays the uninhabited island of Tintamarre. The flat and brush covered 80 acre islet features a gorgeous beach, with a calm anchorage for the day-charter boats which frequently visit for a few hours. On the southern coast, there are several sandy coves with complete privacy.
Here you're invited to rid yourself of those tell-tale tan lines. You can swim and sunbathe unencumbered in your birthday suit. On the southern end of Orient Beach you'll find Club Orient, the most famous Caribbean resort for visitors who prefer to spend their vacation without clothes.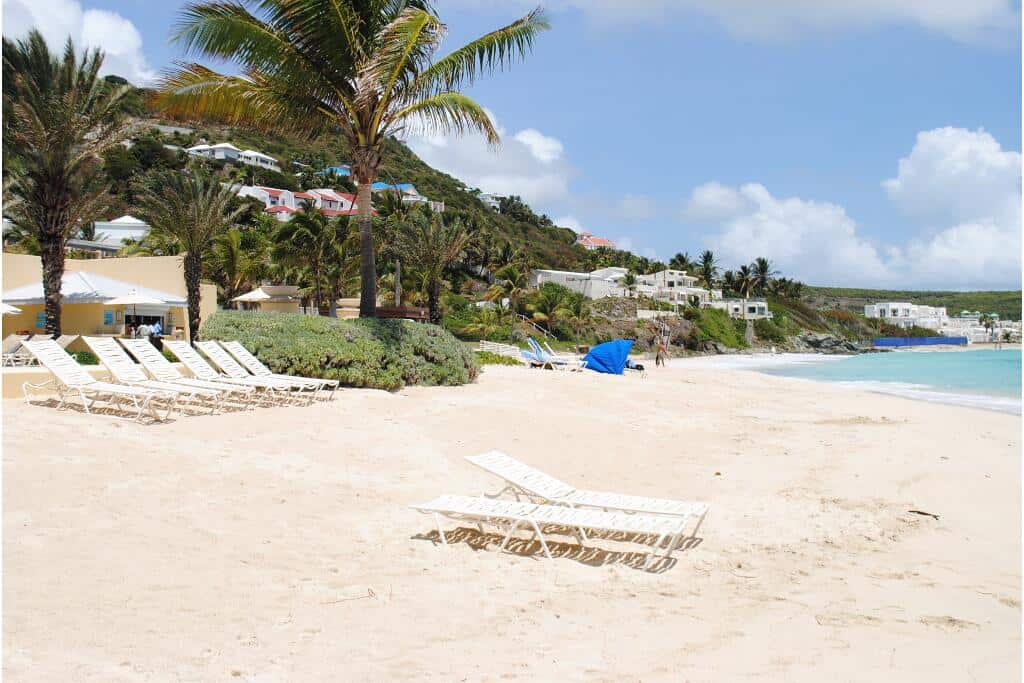 This wide white sand beach, close to a mile long, is back dropped by the dramatic green mountains of Dutch St. Maarten. There's plenty of room to toss a Frisbee or play some paddle ball. Its rolling waters are some of the best for snorkeling on St. Maarten. Coral reefs, burgeoning with exotic fish, are within an easy swim from shore.
Every hour, brightly painted local ferry boats shuttle visitors the few hundred yards from the mainland to this tiny picture-perfect tropical paradise.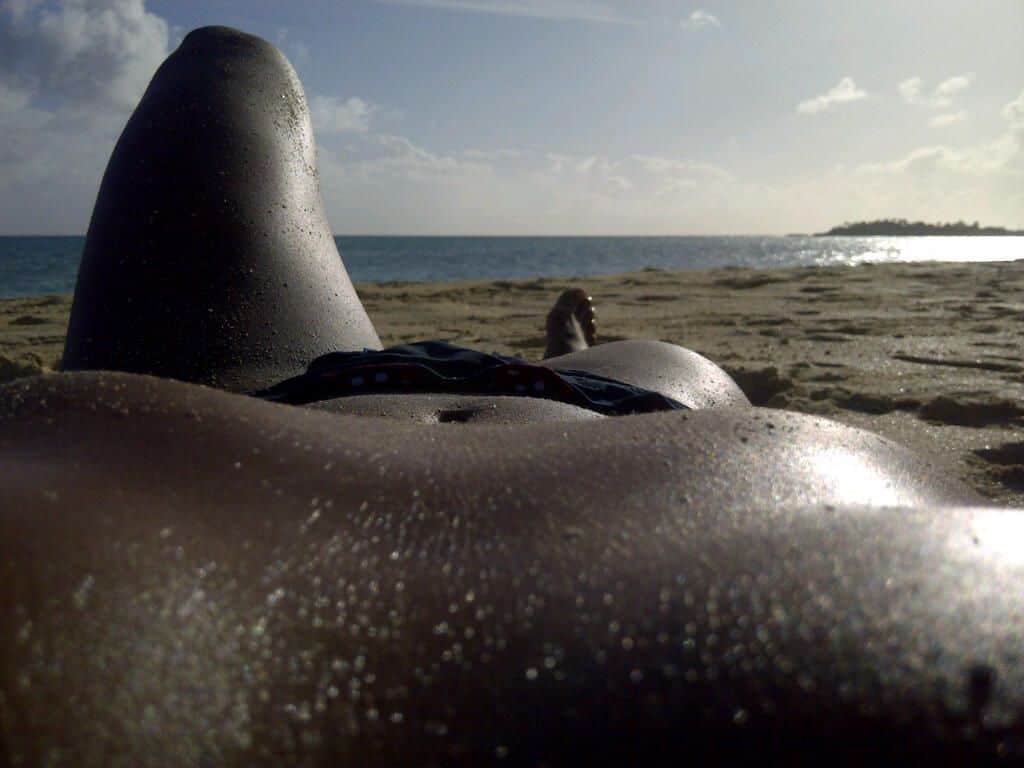 At one time, this area was famous for its families who made their living by fishing. There are still a few fisherman who shove off, hours before dawn, in search of "the one that got away". Today, residential and vacation homes dot this mile long beach, as well as a few small resort hotels.
One of St. Martin's few existing dirt roads leads to Friar's Bay Beach. Since this beautiful bay is well protected from the wind and heavy surf, it is ideal for the whole family.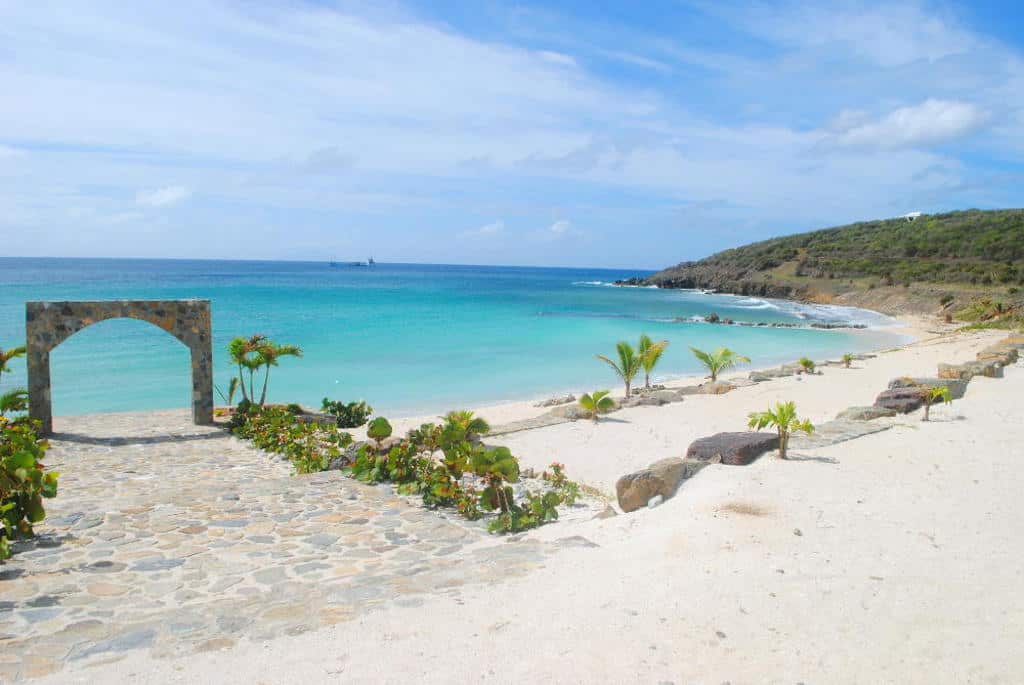 There is a new beach in St. Maarten! A rocky cove, formerly known as Cay Bay has been rechristened to the somewhat catchier name 'Indigo Bay'.
Terres Basses or in English 'The Lowlands' are the island's undisputed glamour neighborhood, with huge estate homes hidden by giant gates and tall walls. Paparazzi would drool to get a guest list of the luxurious vacation villas available here. The beaches are open to the public and are among the most secluded on St. Martin.
This half-moon shaped bay on the Windward side of the island is protected by a great snorkeling reef and is very popular for all types of surfing. A mile of undeveloped park like beach with shallow waters ideal for children, makes Le Gallion a favourite for families.