Experience on-the-water excitement piloting your very own two-man RHINO Watercraft to the best snorkeling spots.
Three-time winner of the prestigious Tour of the Year Award by Princess Cruise lines and recipient of many other awards, Rhino Safari Excursions is St. Martin's original, one and only interactive tour. Featured in many television shows and international magazines, as one of the most innovative and fun tours to do in St-Martin. These zippy 10 ft. inflatable motorboats are yours to command for a thrill of a lifetime ride that is safe, sturdy, reliable, and tons of fun!
Your tour starts at the rhino base in the calm waters of Simpson bay lagoon, you'll be welcomed by our enthusiastic staff who will gear you up and give you a short briefing prior to starting your two and a half hour adventure.

Unlike some other tours, you're not just going to be driving around in circles. Following your friendly guide, you'll cruise safely alongside mega-yacht marinas and boat anchorages before exiting Simpson Bay Lagoon to the French side capital of Marigot. On the way to the snorkeling site, you'll see the spectacular tropical coastline of St. Martin the way it's meant to be seen - from the water. Along the way, you'll pass by the beautiful beaches of Galisbay, Lover's Beach, Friars Bay, Happy Bay, Grand Case, and Little Beach.
Experience the breathtaking beauty of the best snorkeling site on the island, located in within a protected marine reserve. Immerse yourself in our underwater world and meet its amazing inhabitants... then enjoy a complimentary drink under the beautiful Caribbean sunshine. Don't go home without having the chance to say "I RODE A RHINO!
Reserve you stop today, prices start at $69 per person on a double rhino and $114 for singles.

Rhino Safari Excursions is open daily year 'round
Location: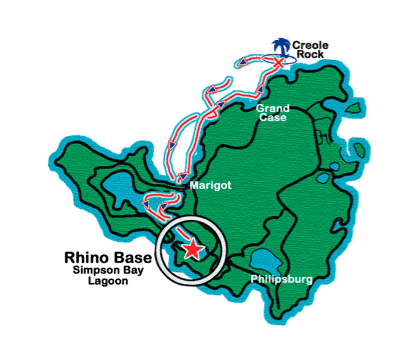 The Rhino Headquarters is located in Simpson Bay, right behind Pineapple Pete Restaurant & Bar For cruise ship passengers: Traffic permitting, travel time from Philipsburg to Simpson Bay and the Rhino Headquarter is about 15 minutes.
Daily Departure Time:
8:30 a.m., 11:30 a.m., and 2:15 p.m. ( Times may vary )

Price guide:
If you ride the Rhino as a single : $124.00 for that single person
If you take a passenger along, ad $24 for this passenger.

These prices apply to all participants no matter what their age. (Prices remain the same throughout the season). At the time of reservation, a fully refundable deposit of 20% has to be paid. Cancellation of up to 7 days prior to booking = 100% refund. Cruise ship late in port = 100% refund. No show - deposit forfeit.

Inclusions ( whats included):

• Your own Rhino Rider watercraft
• Instructional safety briefing
• Professional and entertaining guide on his own Rhino
• Life vests and snorkeling gear
• Complimentary soft drinks & bottled water
• All the fun you can handle

Exclusions ( whats not included):

• Gratuities
• $3 fee for admittance to the protected Saint Martin Natural Reserve
• Transportation to and from the Rhino Headquarters
• Unlike other tours, we do not charge a port or dock fee at this moment.
• A 5% surcharge may be added when guests pay by credit card on location. Save this surcharges by paying the balance of your booking today.

Additional Info:

• Bookings must be made early to ensure availability of this popular tour …. even with a fleet of over 40 boats, we do sell out!
• Not recommended for persons with back problems or who are pregnant.
• Participants must be at least 18 years old to drive watercraft.
• Children 5 years and older are welcome.
• We recommend that you bring a towel, sunscreen, sunglasses, and of course swimwear.
Searching Availability...
If you have additional questions regarding Rhino Safari, just send us a message by filling out the contact form. We have excursions specialists waiting to respond to you!