Have you ever wondered why 'insiders' shorten St Maarten/St Martin to SXM? You are seeing this abbreviation everywhere, even a popular bumper sticker is using it. Well, there is not much mystery behind it: SXM is the airport's international code name.
The Princess Juliana International Airport is the second busiest airport of the hemisphere. Regular jet service from most metropolitan centers in the United States turns travel to the Caribbean into an easy 2 to 3 hour commute from most cities on the US east coast. Jumbo jets also arrive from Europe, mostly Paris and Amsterdam.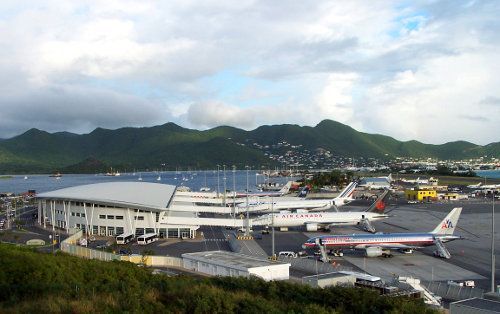 Smaller commuter planes are connecting less developed islands with St. Maarten as the hub.
The town of Grand Case on the French side of the island is home to the second airport. Though more modest in size, there are regular international flights from this airport to Puerto Rico (a US territory) and the Dominican Republic. The other French islands of St. Barths, Goudaloupe and Martinique are alsoserved with frequent flights, which are - of course - considered in-land flights, as they are within French territory.