Diamonds! Emeralds! Any kind of precious metal in any shape or quantity... St. Maarten's jewelry shops are among the most competitive in the world and line Philipsburg's fabulous Front Street. Prices are amazingly low and quality is up to international standards, with several of the larger stores having service centers in the US.
As a matter of fact, the jewelry shopping opportunities are so incredible that they attract experienced buyers to return over and over again to the island for the sole purposes of further bargain hunting.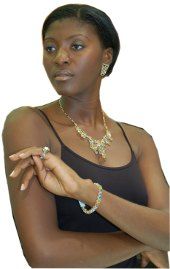 Almost all brands and designers are to be found. The well informed sales personal will be able to guide visitors to purchases they will not regret, especially once they have their merchandise independently appraised back home.

The jewelers listed on our website are all well established and have an immaculate reputation. Most of them are recommended by the cruise industry and are members of the Caribbean Gemological Institute.
SHIVA'S GOLD & GEMS is even a member of the elite organization 'Leading Jewelers of the World'!
If you are knowledgeable about jewelry and you are browsing on Front Street, you will notice that the prices on most pieces are up to 50% below US retail - once you get the final quote from the sales person. Obviously, such enormous savings can't be expected from world-class, brand-name timepieces, but you will still be able to get a 'best deal'.
Having a special passion for "Haute Horlogerie" (the high art of creating master piece watches) is Love Mahtani, operating two "Jewels by Love"-stores on the island. Here you will get very competent advise on the exclusive timepieces the stores carry.
Beware of illegally produced replicas of famous watch designs; away from the established jewelry shops (which have a reputation to loose) there are many stores specializing in souvenir items and they openly offer fake golden Rolex or other famous watches. Its up to you to decide if you are comfortable with a cheap copy of the real thing, but be aware that customs at your home country might snatch these illegally produced and marketed items.