Why your business should get listed on ST-MAARTEN.COM:
With over 1 million unique visitors per year(!), ST-MAARTEN.COM is the dominant website of the NE Caribbean - by a huge margin.
Our traffic targets vacationers who are actively preparing for a visit of our island.
We deliver the lowest 'Cost per Contact' of all commercial media available, print or Internet.
How to get listed:
Standard advertorial only - $600/year
Click here to see example >>>
Exclusive advertorial only - $1,200/year
Graphical banners - displayed on all editorial pages randomly and within context on pages covering the advertiser's industry - $1,200/year
Combination package advertorial/banners - $1,800/year
Please send your inquiries to
This email address is being protected from spambots. You need JavaScript enabled to view it.
Request a meeting with one of our Internet Marketing Consultants.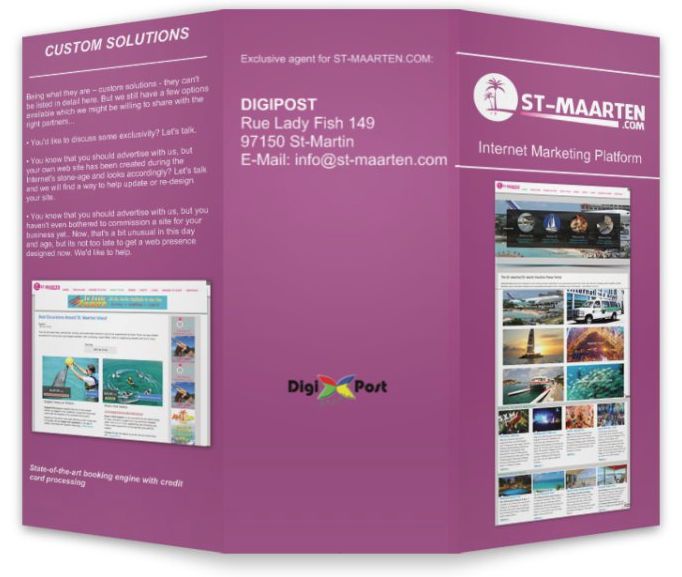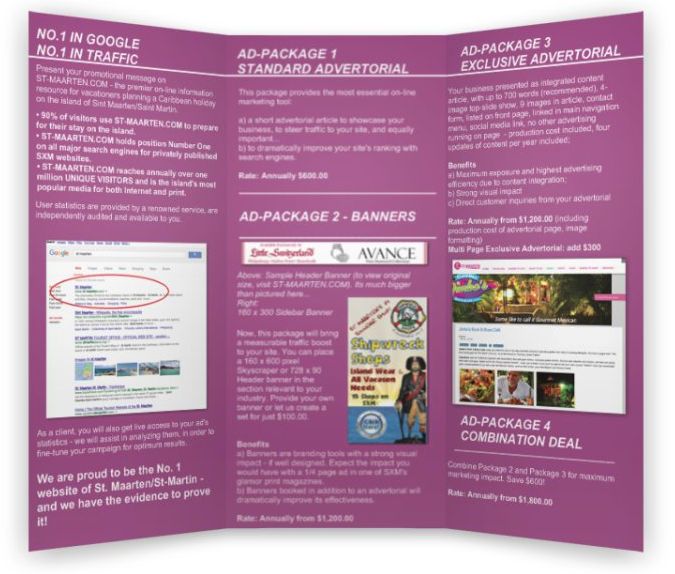 Some Marketing Details
ST-MAARTEN.COM is the largest website (by user traffic) covering St. Maarten/St. Martin and the neighboring islands. Our advertising rates are the lowest available for both print and online media, if you apply Cost Per One Thousand Contacts (CPM). We work with a CPM of $2.50, compared to $30 or more in print.

ST-MAARTEN.COM has over one million 'unique users' per year. Our rates must be higher than the ones for sites handling only a few thousand visitors annually (if that much). As publishers of a professional web portal, we spend money and intense effort to achieve our search engine position We create the most valuable user traffic for any tourism related business on the island: the first time visitor to SXM.
If you pay $250 to reach 10,000 readers, you might find this reasonable, while its actually expensive (CPM = $25 to reach 1,000). With ST-MAARTEN.COM, you would pay under $2,500 to reach 1 million readers - which is a tenth! (CPM under $2.50 to reach 1000).

For all generic "St. Maarten" search terms on popular search engines, ST-MAARTEN.COM holds the number one position, generating about 70% of the Internet traffic for the island!

Audited and reliable statistics (by Google Analytics) about traffic to the site and traffic to an advertiser's segment are available on request at any time to clients.